"Life Trax" are formal times of Bible study with the primary purpose being instruction and education. They have a specific start and end date, and we offer several classes each quarter meeting at different times and locations.

In a home setting, assigned mentors will guide you through the Titus 2 principle in a 6-week study. Format: Hors d'oeuvres, cooking demo, Bible study, table talk w/meal, prayer, dismissal.
For Questions please text Judy Metcalf @ (864) 360-1852.
*Women Only*
Thursdays 6:30 PM, January 17th–February 28th
Led by: Judy Metcalf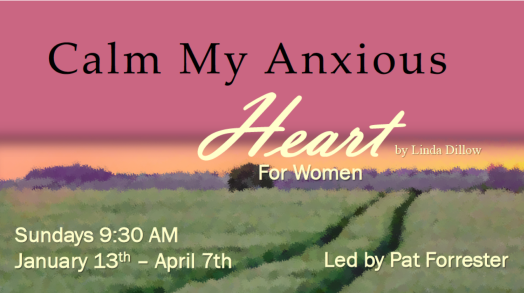 Women worry a lot. We fret about our children, our friends, our careers, our spouses---the list goes on and on! If you're tired of being held hostage to a million "what ifs," this Bible study will provide the help you need to exchange your anxieties for godly peace and contentment.
Sundays 9:30 AM, January 13th– April 7th
Led by: Pat Forrester
For anyone who has completed Beginner FAITH. The purpose of FAITH Evangelism is to train the believer in how to share the gospel in a simple and effective way. Also, the participant learns how the process of disciple making is God's call for every Christian.
Wednesdays 6:30 PM, January 16th– March 27th
Led by: John Peavy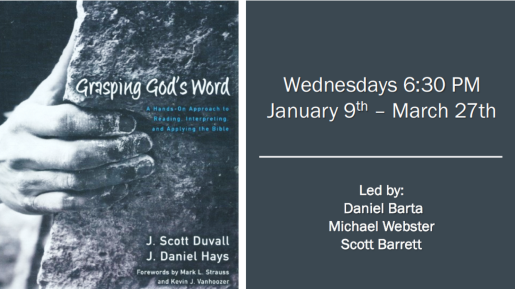 Understanding the Bible correctly and rightly relating its meaning to life requires using the right approach and tools to dig deeper into Scripture. In Grasping God's Word: A Hands on Approach to Reading, Interpreting, and Applying the Bible, Old Testament scholar J. Daniel Hays and New Testament expert J. Scott Duvall provide practical, hands-on exercises to guide students and lay-learners through the interpretive process. Now in its third edition, this textbook has proven itself in classrooms across the country as an invaluable help to students who want to learn how to read, interpret, and apply the Bible for themselves.
Wednesdays 6:30 PM, January 9th– March 27th
Led by: Daniel Barta, Michael Webster, Scott Barrett
A verse by verse walk throughthe book of Joshua which details the story of God's mighty hand bringing His people into the land He had promised to give them.
Wednesdays 10:45 AM, January 9th– March 27th
Led by: Bob Mathis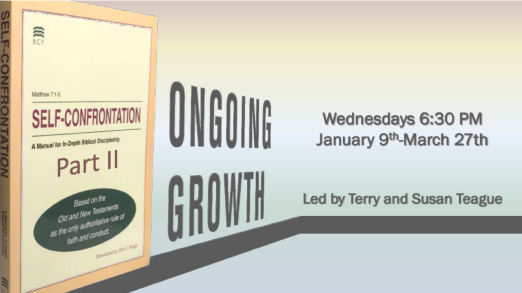 Self-Confrontation will help you learn how the Bible is sufficient and applicable to produce lasting victory in every circumstance and relationship, no matter how difficult.
Wednesdays 6:30 PM, January 9th-March 27th
Led by: Terry and Susan Teague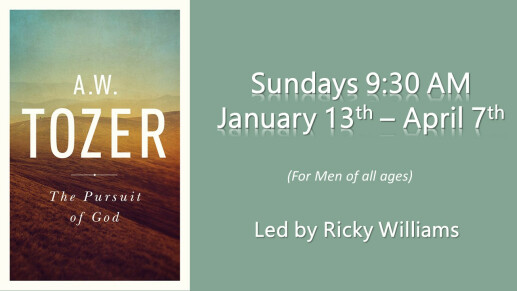 Through the power of the Gospel, God becomes our greatest treasure, joy and pleasure. As men, we are called to lead others - wife, children, friends, colleagues - to know and enjoy God, but before we lead others, we must first learn to sit in His presence and enjoy His glory ourselves. In this study, we will learn to seek God by faith while trusting that He will reward our seeking with Himself!
*For Men of all ages*
Sundays 9:30 AM, January 13th– April 7th
Led by: Ricky Williams